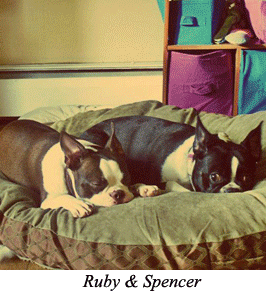 We here at Halo love hearing from our customers and how well their pets are doing on Halo products. We like to share this letter and pictures we received from Jessica Fellows of Concord, NH with our blog readers:
Dear Halo:
I just had to take the time to email you, and let you know how thankful I am for your dog food. I have 2 very picky Boston Terriers, with sensitive tummies, and this stuff has been a life saver. We have jumped around, switching foods to find the perfect food for them, with little to no luck. Some foods were too rich, and some weren't a high enough quality, which makes them get dry skin, and ugly tear stains. With Halo, I have 2 very happy pups, who run to the food bowl and gobble it up without any problems. Firm Poops, Shiny coats, and a full belly. What more could you ask for?
My kitties also absolutely love the canned cat food, and will run to the kitchen any time I'm opening a Pop Top can, thinking it's their yummy canned food. With the cats, we have tried many different canned foods, which they only get for a treat 3 times a week, and they just don't like the other brands as much. They like some of the [other brand's] flavors, but with Halo, they love it all. Every flavor I've purchased is gobbled up so quickly!
I just wanted to take a moment to thank you guys for putting a great food on the market, which is easy to locate at the store, and is priced at the perfect price for my family. I recently bought 2 BIG 28lb bags, and thanks to you guys, saved $10 ($5 off each bag) with the coupons on your website!
Thank you, thank you, thank you for making feeding time a breeze in this house! We no longer have to struggle trying to find the perfect food for my two girls, now that we have discovered how wonderful Halo is.
Keep up the amazing work!
Jessica Fellows
Thank you Jessica for your email and wonderful pictures of your furry family; we are happy to hear that Ruby and Spencer your Boston Terriers and Zoey, Riley and Josie your cats are doing so well.