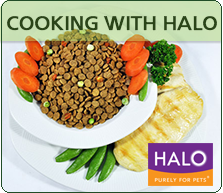 By Bettie Hamilton and Diane Herbst
It is always a great time developing Halo products.
Halo's HEALTHSOME tasty biscuits are for dogs like homemade cookies are to children. The number one priority was to create a satisfying nutritious reward made with high quality chicken or beef, whole grains and farm fresh fruits and vegetables. Pieces of oats are visible in every treat.
As with all Halo baked treats kcals/ per biscuit are listed on the bag as a reminder to manage food portions for pets to help maintain ideal weight. Halo initiated this process when the treats were introduced, although not required on treat packaging. Our desire is to provide helpful information about what pets eat to pet parents.
Round treats with benefits were healthy additions to the HEALTHSOME line. Skin and Coat is made with DREAMCOAT, Halo's best selling natural food supplement – a blend of pure oils and essential fatty acids to help promote a full shiny coat and smooth skin. HEALTHSOME Skin and coat also has real salmon in the formula along with assorted fruits and vegetables for more than just a delicious snack.
Another amazing beneficial treat in the line is HEALTHSOME Well-being with chicken and cheese. They are made with a blend of cranberries, pumpkin, sweet potatoes, and yogurt along with protein rich chicken and cheese for an irresistible aroma and taste. This is a personal favorite of mine and standard reward for my dogs.
Bettie Hamilton heads-up Halo's product development working closely with animal nutritionists and veterinarians to bring you wholesome food, treats, and supplements made with the highest quality natural whole food ingredients (like those you can find in your own kitchen). She shares stories and tips with hundreds of pet owners about Halo through speaking engagements, lifestyle articles and casual meetings on planes or in a park. Bettie's pets Gracie, a Brittany, and Molly, a beagle, are often the first to give a paw up approval for new items, while neighborhood cats weigh-in on feline cuisine.