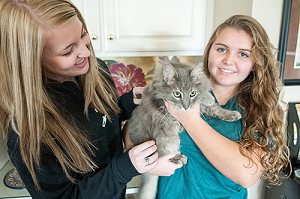 After 18 months of worry and wonder, a Joplin, MO family is reunited with the cat they thought they lost during a devastating tornado in 2011.
The Kent family's home was completely destroyed during the storm that swept through Joplin, MO last year, making history. Their family cat, Simba, left the house before the storm and they never saw him again; until last week.
Jan Kent and her daughters, Alexandra and Stephanie, had gone to visit the site of their leveled home and were amazed to see a cat resembling Simba near their old house. "I called his name and he came right over," Jan told the Joplin Globe. "I never thought we would have him back." A nick on his ear further confirmed he was their beloved cat.