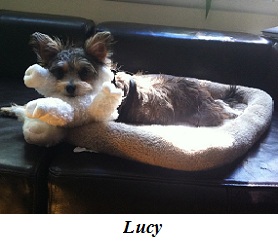 Here at Halo we love getting letters from our customers letting us know how well their pets are doing and we like to share this letter and picture we received from Rachel Feitelson with our blog readers.
Dear Halo,
Over the summer, we adopted a little 10 pound terrier mix. Lucy had been a stray and was full of fleas, had a skin infection, and her intestines were so full of poop and plastic (she ate garbage as a stray) that she needed an enema and Laxotone for weeks.
She's always been sensitive and mostly constipated, but recently suffered a nasty bout of diarrhea that was full of mucus and even blood. Once we knew that Lucy hadn't ingested something sharp, the vet wanted to put her on two broad-spectrum antibiotics– without knowing if she even had a bug!
During this time my fiancé noticed that when we fed Lucy [a store brand chicken flavor], she would scratch her face for a while and cough. He suggested that she might be allergic to the dog food. I came across Spot's Stew in the local Whole Foods and was impressed with the ingredient list.
When I got home I opened the bag to feed her…and she almost jumped in!! Lucy loves this food so much she dances for her bowl every time we put it down. The diarrhea and horrible gas has been replaced by the healthiest, most regular bowel regimen she's had since we got her. The face scratching and coughing stopped.
Also, Lucy's coat is so silky and we know that she's healing from the inside out because she doesn't smell bad anymore, and her breath is totally tolerable (as dog breath goes). Just the other night I joked "aww, she was eating sawdust" but it's not a joke…her previous food was mostly filler and allergens. We feed her more of Spot's Stew per day and she hasn't gained any weight.
Thank you so much for your excellent product!! Lucy loves it and so do we. You are doing a great service to pets, keep up the great work!
Sincerely,
Rachel
Thank you Rachel for sharing your story and picture of Lucy with our readers; we are so happy to hear that Lucy is doing so well and no longer experiencing diarrhea and horrible gas. It's also wonderful she is no longer scratching her face and coughing.