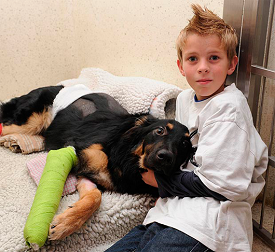 He may still only be a puppy, but 7-month-old Geo showed his hero instincts when he pushed a 10-year-old boy out of the way of an oncoming truck….and took the impact himself.
Carly Riley, of Clacton-on-Sea, Essex in the UK, was out for a walk with Geo, a German Shepherd-Collie mix, and her three sons, Charlie, Josh and Ben. As they waited at the curb to cross the street, a speeding, out of control driver drove up on the curb, headed straight for Charlie.
According to the family, Geo jumped in front of the boy, pushed him out of the way and was hit by the truck once, and then again, before it drove off.