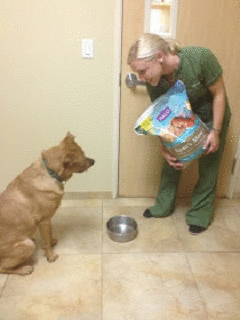 By The PRC's Happenings
The Pet Rescue Center is very excited to announce new partners in our cause to Reduce Unnecessary Euthanasia, Halo Pet Food and FreeKibble.com.
In late October we were introduced to Halo Pet Food executives that had learned of our cause and felt that we shared a common purpose. We both mutually agreed that a cooperative approach in all aspects of Rescue is critical to the overall short and long term success in rescue, and reduction and eventual elimination of unnecessary euthanasia.
After speaking with Halo, they suggested they could help! Whoa! They partner with an amazing website called FreeKibble.com. FreeKibble.com feeds rescued pets and shelter animals through the generous donation of food from its corporate partners and the click of support from the public when you visit FreeKibble.com. Halo surprised us that they had secured a donation from FreeKibble to provide 10,000 meals to The PRC rescues! 10,000 meals of Halo Pet Food – Spots Stew!!! We are delighted in this partnership and incredible gift. It is a perfect example of cooperation to get things done on behalf of rescue. Having this food donation eases the pressure of the financial cost of feeding our rescues.
Thank you Halo Pet Food! Thank you FreeKibble.com!
Meeting with Halo and creating a partnership is very exciting to us and such a positive indication that The PRC is making a difference and that our supporters and advocates are of all varieties (big companies and the day to day volunteer). Every voice, every supporter, every adopter, every donor is a valuable team member to The PRC! Without our team we could not accomplish even the smallest goal. We are stronger everyday with the help of each team member going out into the community and telling someone about us, selling a calendar, forwarding a link to a possible adoption match, walking a PRC dog, petting our kitties, spreading The PRC mission, and educating one person about overpopulation euthanasia and how together The PRC team can make a difference.
Thank you for supporting The PRC and being a valuable team member!!
If you would like to get more involved with The PRC we would love to hear from you! Email adopt@thepetrescuecenter.org.