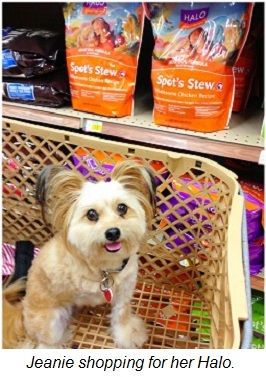 By: L.J. Crochet
While searching the internet one morning to help my friend find a pet to adopt, I came across a little face that would change my life forever. A local rescue organization had listed a precious little dog with a caption under her picture that read "special needs".
A Veterinarian's assistant had found the stray puppy and brought her to the clinic. The puppy had a small, deformed right front leg that was too short to reach the ground. It was weighing her down, making it difficult for her to walk. The Vet removed the leg, spayed her and put her up for adoption.
So the next day I went to the clinic to see her. She was scrawny and scruffy, but to me she was absolutely perfect! We connected immediately and I knew I had to have her. As I left, I thanked the staff and told them that I would think about it. When I started my car, the song "Little Jeannie", by Elton John, was playing on my car radio. "Jean" is a family name, and I took this as a sign. So I walked back into the Vet's office and adopted her on the spot. "Jeanie" would be ready for pick-up in two days.
We tried several different brands of dog food with Jeanie. She wasn't really fond of any of them, and was not gaining any weight. A friend suggested that we try Halo pet food, so we did. And Jeanie loved it! In fact, her favorite is the Small Breed Spot's Stew, Wholesome Chicken.
She is extremely healthy and happy and we know that, in part, Halo is to thank. With three legs, every-day tasks can be a challenge for Jeanie. Halo provides the strength and energy she needs to handle everyday chores, like jumping up on the sofa, playing outside, chasing squirrels in the yard or seeing patients.
In Jeanie's professional opinion, she believes all pets should try Halo pet food, especially pets that are like her… the ones labeled "special needs". Jeanie doesn't mind that label. It fits her. She's special, alright. And she needs her Halo.
Jeanie has been a part of our family now for 5 years. She is now a Therapy Dog with Dr. Dogs Therapy Dogs, a local organization, and is also a registered member of Therapy Dogs, Inc., a national non-profit organization. Her Pet Therapy team visits hospitals, libraries, schools, nursing homes, festivals and special events. She is very good at her job… spreading smiles. She is such an inspiration and brings joy to everyone she meets.