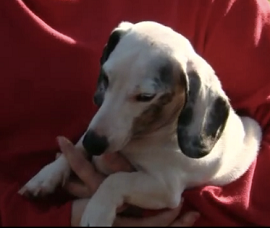 True, a disabled dachshund, showed that true heroes sometimes come in unexpected packages. True is blind, deaf and only has three legs, yet his disabilities didn't stop him from alerting his family that their house was on fire last week.
Katie Crawley of Grady County, Okla. was asleep in her home with her 7-week-old son, Jace, when True began barking. Thinking True wanted to go outside, Crawley opened the front door to flames. She quickly grabbed her son and True and ran out the back of the house.
The fire destroyed everything the family owned but Crawley is grateful to the dog who saved their lives. "We're thankful for him. This could have been a bad deal," she told her local station, KFOR-TV.