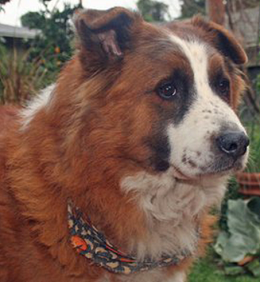 When Chewy, a beautiful St. Bernard/Border Collie strolls around his Modesto, Calif. Neighborhood with his owners, Bruce and Lauren Klein, neighbors flock to greet him. These are the same neighbors who, five years ago, joined forces to care for the dog and. Ultimately, save Chewy from the streets and an uncertain fate.
In a recent editorial in the Modesto Bee, Bruce Klein tells the story of how Chewy came to live with his wife and him.
Five years ago, Chewy was a stray. He roamed the Modesto area by day, each night returning to his "home" – a bridge near Enslen Park.