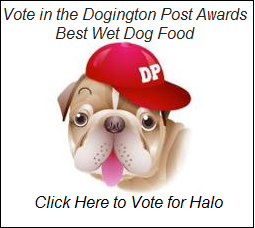 The Dogington Post, the online newspaper for the dog world, is holding its first annual awards. As part of a larger initiative to educate dog owners on proper nutrition, effective training, and other ways to raise a happy and healthy dog, the Dogington Post is reviewing toys, foods, treats, rescue organizations, and dog-loving celebrities.
Nominees from each category for the Dogington Post Award have been selected based on strict criteria including dedication to animal welfare, educating the public on responsible pet ownership, and nationwide initiatives to end the homelessness of animals.
We are happy to announce that Halo has been nominated for Best Wet Dog Food. Halo, along with the other nominees, were selected based on our dedication "to improving the health and vitality of our pets through carefully selecting ingredients, providing nutritionally complete foods, and utilizing manufacturing facilities and procedures with the very best interest of dogs in mind."
To vote, simply leave a comment at The Dogington Post Awards: Best Wet Dog Food article with the name of your choice.