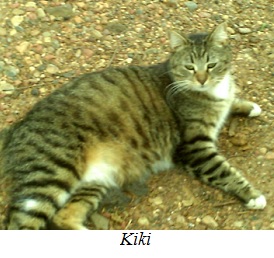 We are honored to share this letter with our blog readers from Steve Robertson; a Halo customer who has two Felv-positive cats.
Dear Halo:
My two cats are both Felv-postive; Halo cat food has really helped them both. Since starting them on Halo in April 2012 neither cat has had to go to the vet. I've tried other top brands but Halo is the best.
My two FeLK cats, one male and one female, the female cat does not suffer as bad as the male. So I will give you a little history on Kiki, my male cat. One year ago this week, I found out he had leukemia; he was four years old. He almost died that day due to an infection. The vet gave him very strong meds and I was told I should have him euthanized. I was not going to let that happen. I took him to three different vets and they all said the same thing.
I tried many premium cat foods and in mid April 2012 a friend recommended Halo dry cat food. I started him on Halo that day. I had to drive fifty miles round trip for the food and Halo brought my Kiki back to normal.
Within a week of changing to the less expensive food Kiki would start getting sick; so there will only be one food for him that is Halo dry cat food. I have been a cat person all of my life and have probably rescued over a hundred cats but Kiki is very special; he is my best friend.
With Halo cat food I know he will be with me a long time to come and by-the-way he runs and plays like a kitten most of the time now.
Thank you so much!
Steve Robertson
Thank you Steve for sharing your story with us and we are so happy to hear both your cats are doing well.