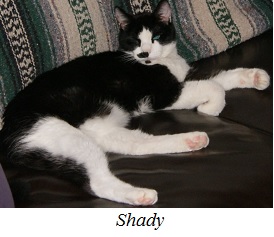 We like to share this letter we received from Cindy of TX who has several rescue senior cats:
Hello Halo,
I have to tell you THANK YOU. My "old man" cat Shady, who is 17 years old, has had problems with many, many different foods. I have wanted to transition him off of the dry food he eats because I know it isn't the greatest.
We have tried so many brands from inexpensive and low quality to very expensive, natural holistic foods. Within minutes, he is vomiting. With Shady's history and fragile state, I had given up ever trying to find anything else that would work.
About six months ago, we bought Halo to try for our two other senior cats to try. Well, Shady is fast and before we could pick it up he had eaten a little bit. We waited for the awful gagging sound… 5 minutes… 10 minutes… nothing!!
So, we tried again later that evening – he was able to keep it down. Over the next month, we tried almost every flavor of Halo and Shady has been able to digest it just fine. He is a little more smelly – LOL, but I am elated that we are able to provide him with a higher quality food and increase his water intake! I am so thankful that we have finally found a food that he can not only keep down but he LOVES as well.
A grateful feline pet parent,
Cindy
Thank you Cindy for sharing your story with us and we are happy that all of your senior cats are doing so well.