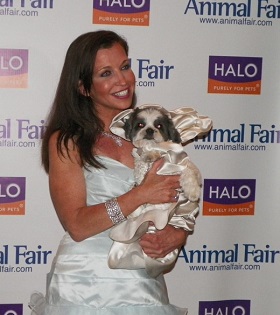 TLC's hit show Cake Boss aired Baby Hope's FairyTAIL wedding at 10pm EST on February 4, 2013.
The wedding took place on July 12th, 2012 at Manhattan's legendary Jumeirah Essex House Hotel on Central Park as a celebration and tribute to Lucky's life and legacy of animal rescue and championing the underdog! Wendy's new dog, Baby Hope Diamond (since she brought her so much hope after Lucky passed), was the Lucky Bride. Baby Hope's groom was a dapper Poodle named Chilly Pasternak with Blue hair and a peace sign on his back!
AnimalFair.com's Most Beautiful Pet Wedding in History honoring Lucky Diamond's Life & Legacy was a huge success! They won the Guinness World Record for "The Most Expensive Pet Wedding In History" with a total of $158,187.26! All total the amount was over $275,000 all donated by the most amazing Wedding Dream Team! Proceeds of the benefit supported the Lucky Diamond Critical Care Ward at the Humane Society of New York!
The time, resources, services, and products to make this the most expensive wedding were all donated, enabling Animal Fair Media to produce this incredible historic event. All of the annual media outreach events over the past ten years were created to bring animal rescue and welfare to the public awareness arena, encouraging adopting, volunteering and donating to local animal shelters. Their annual events have raised millions for local shelters including the Humane Society of New York, the Celebrate Lucky's Life & Legacy At The Pet Wedding Of The Century benefit was in Lucky's name and honor.
We were more than happy to provide the all natural pet food buffet for all the four-legged guests!