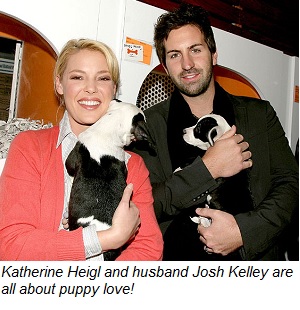 Halo, Purely for Pets is proud to sponsor The Puppy Love Lunch Series and provide goodies for the gift bags. The event will be hosted by Animal Advocate and Pet Lifestyle Expert Wendy Diamond and feature movie star and animal advocate Katherine Heigl.
Halo was proud to sponsor Wendy Diamond's "World's Biggest Pet Wedding" to support animal rescue, and to sponsor Katherine Heigl's PBS film, "Shelter Me".
The premiere Puppy Love Lunch will kick off on February 11th, 2013, 12:30 – 2:00 pm, in New York City. The VIP luncheon will include 50 leading women/men of industry, all championing animal rescue!
Katherine Heigl is a pet parent to seven dogs and three cats; Heigl does everything she can to save animals. Heigl and her mother, Nancy, started Heigl's Hounds of Hope, an organization dedicated to rescuing larger dogs with behavior problems. She will also introduce her charity The Jason Debus Heigl Foundation and new pet product line, Just One, with proceeds benefiting animals in need.
The Puppy Love Lunch Series is an intimate luncheon with guests including leading Celebrities, Media Influencers, Philanthropists and Animal Advocates representing their contributions to society.