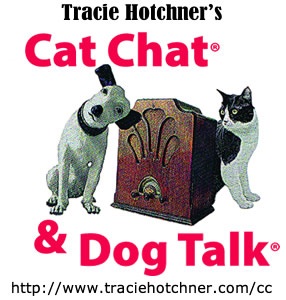 Tonight you can meet the wonderful vet, Dr. Donna Spector, whose opinions you have been reading here on the HALO blog for years! Dr. Donna will be filling in as my co-host tonight on my new Internet radio show CAT CHAT® & DOG TALK®.
My usual co-host, Dr. Shawn "The Natural Vet" is away at a veterinary conference (where he will also be demonstrating his magic skills!) and Donna is the perfect stand-in because she is knowledgeable about traditional Western medicine as well as alternative therapies and points of view, and is an active member of the Association of Holistic Veterinarians – in addition to being a board-certified Veterinary Internal Medicine Specialist.
I actually know you'll have a good time with us on the radio because Dr. Spector has often been my guest on my SiriusXM show CAT CHAT® (before the Martha Stewart channel was cancelled) and on my NPR show DOG TALK® – but we've never had the privilege of taking live calls and answering them together.
So tonight Dr. Donna will be jumping into the hot seat and we're ready for all the Halo followers to bring it on! We'll be answering your questions about nutrition and offering helpful insight about chronic, complicated or undiagnosed medical problems in your dogs and cats. And you'll be doing us a favor because this will be a test run for a whole new live radio show that Dr. Spector and I will co-host together every week called THE EXPERT VET, which will premiere on my new RADIO PET LADY NETWORK that is launching in March! Give us some practice tonight with your medical challenges!
Dr. Donna Spector is ready to give her objective opinion to callers who want a second opinion about Dr. Donna is widely recognized for her role as consulting veterinarian to HALO Purely for Pets, her TV appearances with Ellen DeGeneres and her widely-quoted pet health advice in print and on radio. Tracie will co-host with Dr. Donna – as she does with Dr. Shawn "The Natural Vet" on CAT CHAT® & DOG TALK® – which will create a smooth and consistent message for all the veterinarians across the network whose advice and point of view embraces both traditional and alternative medicine.
On the air Dr. Donna will offer insight on common pet medical and nutritional issues. For pets with more complicated problems or if more extensive involvement is necessary, she will be available to work directly with a pet owner's veterinarian if an Internal Medicine Consultation is not available locally. Dr. Donna's web-based veterinary consulting service, www.SpectorDVM.com functions through transference of medical records, telephone and email communication with a pet owner and the primary veterinarian.
Tracie Hotchner, author of The Dog Bible and The Cat Bible, guest blogs here on healthy, natural choices for pets.