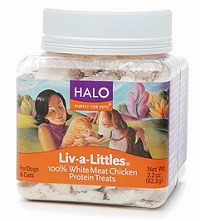 Back in 1986, Halo started in natural food stores, because these pioneers were among the first to recognize that they wanted the same real-food ingredients for their pets as they demanded for themselves.
Now, over a quarter century later, we're honored to be recommended by Whole Foods Market Team Members from around the country.
Here's what Laura from the Tustin Whole Food Market has to say:
"OK, so Riley likes treats – any treats, total treataholic, but the Halo Chicken ones really bring out the smileys!"
Thanks Laura and we're glad Riley is doing well!