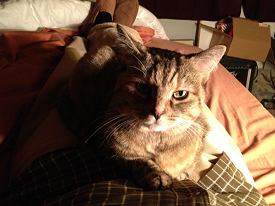 With so many cats in need of homes, often only the friendliest cats are adopted quickly. Others – the shy cats, the fearful/aggressive cats, or the feral cats – are much harder to place. But one woman in Maine is using flower essences and therapeutic touch to help those less adoptable cats find their forever homes.
A recent Catster article by Jane A Kelley profiled Sara Goldenthal's work.
A few years ago, when Sara Goldenthal first began working in animal shelters, she was stunned to learn how hard it was for some cats to find homes. She wanted to help. She's personally had positive experiences overcoming trauma using flower essences and homeopathy, she shares with Catster, so she thought they might help fearful or shy cats as well. "I knew this would never hurt and could only help," she tells Catster.