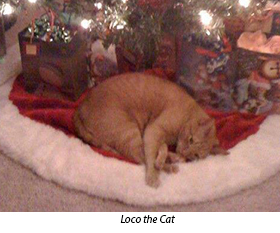 We have another winner from our monthly, "Thank You for Forwarding" drawing. Kara from Kentucky just won a Halo Cat Intro Kit for her cat and friend.
Here's what Karen had to say about her cat, Loco, and Halo Natural Cat Food:
"My cat's name is Loco. Never realized naming a pet as a kitten could shape a pet's personality later in life, but in Loco's case, it did. I've somehow taught him how to play fetch with paper wads (which you can't get him to stop unless you hide the paper wad & pretend you don't see him), go in a circle, and give kisses, just as someone would teach a dog. He (Loco) is the best cat ever, and he and I love entertaining guests with his fetch skills.
I learned about Halo through the Ellen DeGeneres page and Facebook. Thanks again for the intro kit. I'm sure he will enjoy it very much!"
Thank you Kara for being a loyal customer and spreading the word about Halo. We hope Loco will enjoy his Halo Intro Kit and continues to entertain guest with his fetch skills for a very long time!
To receive special offers and a chance to win an Intro Kit, subscribe to the Halo newsletter and forward the latest edition to your friends.
Winners will be announced on our blog by the end of the month.