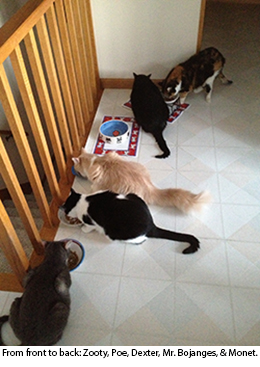 We would like to share this letter we received from John of Madison, WI who has five cats with our blog readers:
Dear Halo:
I wanted to contact you about your product, Spot's Stew (Wild Salmon) for cats. I recently decided to try your brand after my cats started turning their nose up at the [other brand] we have been using the last few years.
In short, all 5 of our cats (ranging from 1 year to 20 years in age) love Spot's Stew. Our 20-year old cat, Monet, seems to really be benefiting from it. Without going into too much detail, it's clear from the litterbox that she is able to much more easily digest this food. And furthermore, while I can't necessarily attribute this to your food product, she went from having kidney function values in the high range to numbers that are squarely in the "normal" range. The vet said that is pretty unusual for a cat her age.
I've never been able to find a food that satisfies all of our cats equally, but they really seem to love your product. We actually have to keep the bag out of reach of the cats because they'll tear it open to get more. That never happened with the [other brands] we've used in the past.
You've got lifelong customers in Monet, Bojangles, Zooty, Poe, and Dexter.
Here is a photo of our menagerie right after I poured some Spot's Stew into their dishes. As you can see, they really love it.
Thanks for making such a great product!
John
Thank you John for sharing your story with us and we are happy that all your cats are doing well.