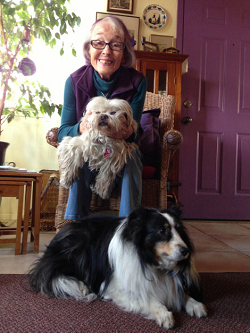 When Jeannie Bell of Santa Fe, New Mexico lost her two beloved dogs within weeks of each other, she was devastated. But two special needs dogs in desperate need of a loving home helped her heal.
Jazzie and Lucy, two beautiful rescue shelties, meant the world to Jeannie – and to each other. Jazzie had been with Jeannie for five years before Jeannie learned about Lucy, an abandoned, highly emotional and panicked sheltie who needed someone to understand her anxious personality.
Jeannie and Jazzie welcomed Lucy into their home and the three adored each other, living happily together for years. "Lucy absolutely loved Jazzie and he loved her too," says Jeannie.