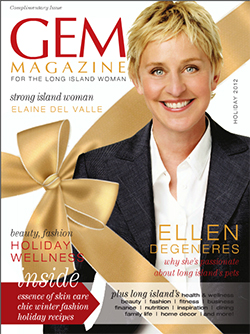 The December 2012 issue Gem Magazine featured a cover story about Ellen DeGeneres and Halo's commitment to all natural, nutritious ingredients and how co-owner has helped numerous pets in Long Island shelters and rescues.
From inviting Rescue Ink on her show back in 2008 to donating thousands of meals to animal shelters and rescues hard hit by Superstorm Sandy, Halo, Freekibble.com and Ellen are especially active in the Long Island community.
In fact, Halo's own Bettie Hamilton, VP Marketing & Product Development, resides on Long Island and is very active in the pet community there.
The same issue also featured an article by Bettie Hamilton: "Healthy Lifestyle Choices for You and Your Pet May Decrease Risk of Cancer."