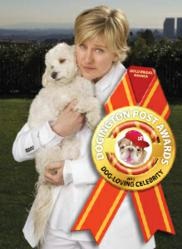 Dogington Post, a popular dog news site that reaches 2.5 million readers each week, recently named Halo co-owner Ellen DeGeneres as "Best Pet Loving Celebrity of 2012" in their Dogington Post Awards.
'Co-owner of Halo Pet Foods and the Halo Pet Foundation, DeGeneres strives to provide pets with happier, healthier, longer lives by providing the best quality dog and cat foods available.
Now partnered with Freekibble.com, Ellen and Halo provide healthy foods to shelter dogs around the nation, ultimately making them healthier, happier, and more adoptable," shares Dogington Post editor, Brandy Arnold.
Winners were nominated by the Dogington Post and then voted on by readers.