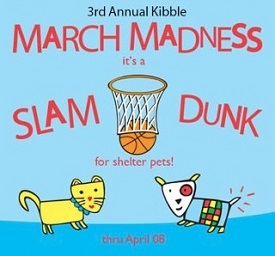 We're proud to team up with Freekibble.com again for the 3rd Annual March Kibble Madness! It's another fun and easy way for you to help feed shelter pets!
From now through the end of the actual March Madness Tournament April 8th, we will donate a meal of Halo Spot's Stew to Freekibble.com to donate to shelter pets for each person who "likes" Halo Pets Facebook page and another meal for each person who "likes" Freekibble's Facebook page. That's TWO meals per person!
There's also a bonus: Each time a basketball team with a dog or cat mascot wins (Cougars, Bulldogs, Wildcats, etc.), we'll donate 100 more meals of Halo!
Already "like" our page? Forward our page and Freekibble.com's page to a friend so they can help shelter animals as well. Spreading the word is always appreciated and thank you for giving shelter pets a chance to receive tasty, nutritious meals.