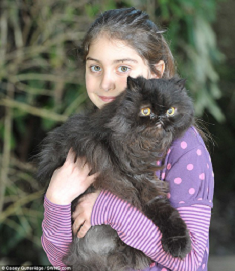 When a sweet-faced Persian cat named Caffrey was three years old, he was hit by a car and lost one of his hind legs. Caffrey adapted and was able to spend the next 10 years going about his normal cat life on just three legs.
But four months ago Caffrey's vet discovered a malignant growth on one of the cat's front legs. According to the Daily Mail, Caffrey's owner, Sue Greaves of Surrey, England, wasn't happy with the options the vet presented: subject Caffrey to chemotherapy with no guarantees or put him to sleep. She demanded a third option: amputate Caffrey's leg and let him get on with his life.
Caffrey's vet and his colleagues warned Greaves that, with only two legs, Caffrey wouldn't be able to walk or have any quality of life.