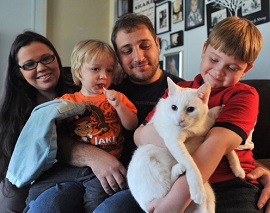 A rescue cat who was taken in by a Jones County, Ga. family, returned the favor by saving the family's home from going up in flames.
According to the Macon Telegraph, seven-year-old Brendon Rinauro begged his parents to let him keep Mr. Meowy, a sweet white cat from animal rescue group Macon Purrs 'N Paws. Brendon's parents, Kayti and Sal, weren't convinced they wanted to adopt a cat, but reluctantly agreed to foster Mr. Meowy temporarily.
The next day, the family left their home to go out for the evening. As she was leaving, Kayti ran back inside to turn on a light for Mr. Meowy. That's when she heard the cat meowing loudly from Brendon's bedroom.