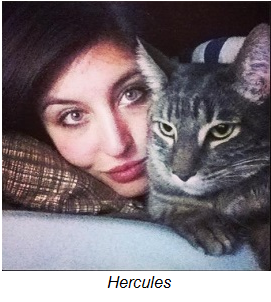 Facebook fan, Shea Alexandra, recently wrote to us about her rescue cat, Hercules, and her experience with Halo natural cat food. Here's what she had to say:
Dearest Halo Pets,
I am so happy that your products exist. I just ordered a 11.5LB bag of Wholesome Chicken kitty food off of your website. I only wish you guys carried bigger quantities of food that customers could buy in bulk. I usually buy my cat his food at Whole Foods Market but I find that they are almost always sold out of your product, which is a little alarming for me when it happens so often.
You see, my kitty, Hercules was adopted last year on a whim because it was love at first sight. Sadly, the poor boy was either sick or traumatized or both when I got him, as he would not eat. He almost died. We had to have a tube installed into his throat and I had to tube feed him multiple times a day and hope that he eventually ate on his own. Eventually he DID decide to eat, but I've found that the absolute ONLY thing he will consume is Spot's Stew Wholesome Chicken Dry (and occasionally canned) cat food. He went from being emaciated to a healthy 14-pound tabby (which the vet says is average for his size)!!! He is a big kitty with a big (albeit picky) appetite.
Thank you so much for basically contributing to saving the life of my best friend! Please consider bigger bulk quantities (and discounts perhaps) for those of us who need a constant supply! Thanks.
Shea, thank you so much for sharing your story! We are glad that Hercules is happy and healthy. Also, don't forget to sign-up for our newsletter for special offers to our web store and use our Halo coupons for discounts at your local retailer.