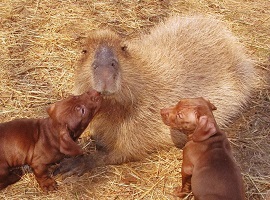 A litter of dachshund puppies may have come to the Rocky Ridge Refuge motherless, but that wasn't the case for long.
When the puppies, which were found abandoned near a church, were brought to Rocky Ridge, a resident Capybara named Cheesecake immediately stepped up and began caring for the orphaned pups.
The Rocky Ridge Refuge is an animal "group home" rescue located in Arkansas. They care for all kinds of animals from dogs and cats to turtles to donkeys to yes, Capybaras, which are the largest rodents in the world.