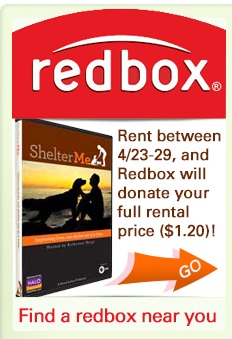 Yesterday, Ellen DeGeneres took to social media to encourage fans and followers to support pets in need by heading to their local Redbox location and renting "Shelter Me", an inspiring PBS film about incredible shelter pets. All rental proceeds through April 29 will go to the Halo Pet Foundation.
"Shelter Me", hosted by Katherine Heigl and sponsored by Halo, is an inspiring and uplifting PBS documentary that celebrates shelter pets and the humans who love them.
The film, by acclaimed filmmaker Steven Latham, aired last year across the nation and is now available for rental at 45,000 Redbox locations.
Through April 29, Redbox will donate 100% of the proceeds of Shelter Me rentals to the Halo Pet Foundation, which is dedicated to supporting shelters and rescues across the United States. In fact, 100% of every dollar raised by the Halo Pet Foundation goes to pets in need and helping educate people about rescue.
The film showcases dogs that were abandoned or lost, who found happy loving homes. Filmmakers go into a women's prison, where inmates train shelter dogs become service dogs for people with disabilities. Shelter Me shares the stories of two war veterans, struggling to cope with post-traumatic stress disorder (PTSD) and how shelter dogs saved their lives.
Visit Redbox.com today to reserve your copy for rental and help support shelters and rescues!
For more about Shelter Me, visit: : Shelter Me @ Redbox Supports the Halo Pet Foundation