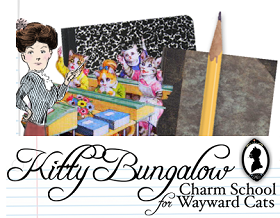 On Thursday, April 25, feral cats and rescue kitties at Kitty Bungalow Charm School for Wayward Cats in Los Angeles will be meowing on fuller bellies thanks to Freekibble.com's donation of 5,000 meals of healthy, Halo Spot's Stew!
We are thrilled to support this incredible organization, whose mission is to provide all cats the ability to adjust to indoor life with a warm and loving lifelong home, while providing those cats who need to continue living outdoors with a caring colony manager, assuring all cats, lap or otherwise, a humane and happy existence.
Kitty Bungalow will use the donated meals as a School Lunch Endowment program to feed their 125 rescued kittens.
The donation will be celebrated at one of Halo's retail partners, Pussy & Pooch Pethouse and Pawbar, and presented to Kitty Bungalow at the monthly Meow Mingle, a festive cat social for human and feline guests, on April 25 from 6:00pm – 8:00pm.
The theme of the night is "Class Reunion" and adopted Kitty Bungalow 'Alumni' will return to celebrate the Halo School Lunch Endowment program.
Pussy & Pooch will serve snacks and drinks to guests at its one-of-a-kind Pawbar, and attendees will also enjoy interactive activities such as the Kitten Yearbook Paw-tographs and a fun Cap & Gown Photo Booth with the Kitty Bungalow Headmistress, Shawn Simons.
We love it! If you live in the Los Angeles area, be sure to stop by this fun event!