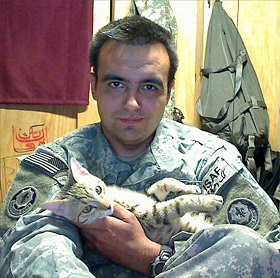 The last thing Sgt. Jesse Knott expected to bring home to the United States from Afghanistan was a cat. But this soldier and an Afghan cat he named Koshka were clearly destined to be together after helping each other survive a dangerous war zone.
Stationed in an Army base in southern Afghanistan, Sgt. Knott noticed one day that a feral cat who roamed around the base was limping and bleeding heavily. He lured the cat into his office with a piece of steak and spent the next seven months caring for the cat he named Koshka.
The two bonded quickly. Sgt. Knott nursed Koshka back to health, while Koshka comforted Sgt. Knott during the certain danger and emotional toll of war.