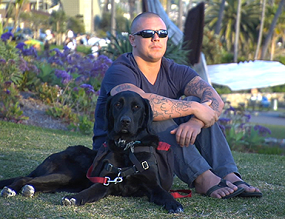 The following is one of the incredible, inspiring stories featured in "Shelter Me", a PBS film by Steven Latham. Hosted by Katherine Heigl, "Shelter Me" aired nationwide last year and is now available for rental at Redbox. From April 23 through April 29, Redbox donated 100% of rental proceeds of Shelter Me to the Halo Pet Foundation.
The Halo Pet Foundation is dedicated to supporting shelters and rescues and best of all, 100% of foundation funds go to help pets! For more information please visit: "Shelter Me".
When Andrew Trotto, U.S. Army, 168th Combat Action Battalion, came home from Iraq, he was struggling with anxiety, depression and anger. Over time, his post traumatic stress disorder (PTSD) grew to the point that he didn't know how he'd survive another day. But a sweet rescue dog named Teka changed all that and gave him a reason to live.
Although Trotto was struggling with PTSD, he didn't know where to turn. "I was a machine," he says. "It's hard to ask for help when you're in that kind of position."