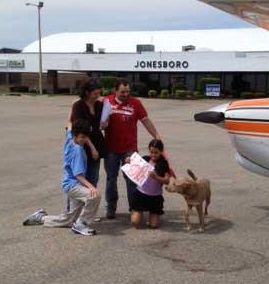 In a heartwarming twist of fate, a boy recovering from a heart transplant and a dog with an uncertain future are beginning new lives – together.
Angela McGhee, president of S.A.V.E. Rescue Coalition in Houston, Texas, knew Scotch, a gentle pit bull-lab mix she had in her care, would be a perfect family dog. She also knew that finding homes for pit bulls in Texas was not an easy thing to do. However, as she always does, she worked hard to find Scotch his forever home through a variety of channels, including Facebook.
She was surprised to receive a query from a woman in Bono, Arkansas. Melanie Leon was looking for a wonderful dog for her 11-year-old son, Gabe, who had undergone a heart transplant a year ago.