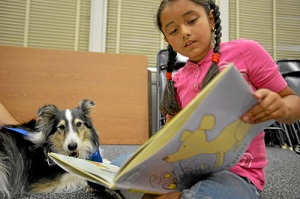 A California library system is helping local kids learn to read better – with dogs as tutors!
According to the Press Telegram, two Long Beach Public Libraries have been piloting a reading program with the organization, Beach Animals Reading with Kids (B.A.R.K.), which specializes in pairing therapy dogs with children to help improve the students' literacy skills.
The program has been such a success that the system is rolling it out to all 12 of their libraries this summer. At each session, kids and specially trained pooches are paired up at the library for some story time. The child reads aloud to the dog and the dog attentively listens.