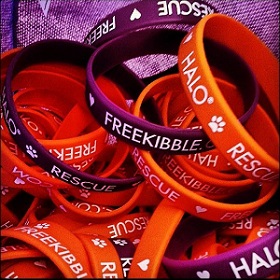 From May 29th until June 26th, you can check-in to "City Tails – NYC" on Facebook or Foursquare, or use #CityTailsNYC on Twitter and Freekibble.com will donate a Halo Pets meal to a local New York metropolitan area shelter pet – and you get a FREE rescue bracelet!
The month long event, "Halo City Tails – NYC," unites pet lovers, provides easy ways for visitors to help pets in need, and engages customers with the Halo brand and mission to give back to the community.
The City Tails – NYC is located at the Roger Smith Hotel, 501 Lexington Ave. at 47th St.
So check-in, tell your friends and spread the word. Remember, an animal in need will get a healthy delicious meal because of you!