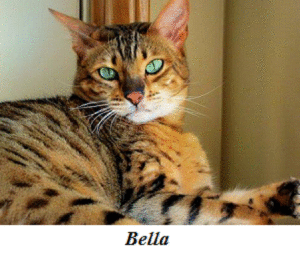 We thought you'd enjoy this letter from a new Halo family member Pat Phillips about her Bengal cats!
Dear Halo Pets,
I had to write! I have 2 Bengal cats. They were raised on a [premium brand] cat food since birth. They will be 4 years old this July. About 6 months ago, one of my Bengal's, "Bella", looked as if she was losing weight. Couldn't be sure, she just didn't seem right or look right. It was like she was losing muscle mass.
My other Bengal, "Lucy", was becoming lethargic and her coat went from a beautiful one to course, dull hair. It never dawned on me that the [premium brand] may have been the cause because it was advertised as a premium cat food.
Then by chance, I happened upon an article how the [premium brand] was making cats sick. There were dozen's of documented cases. I decided to get my prized Bengal's off that stuff.
I researched cat foods and decided to try the HALO brand because I trust a fellow animal lover, Ellen DeGeneres. Well, I must say, my cats were switched 2 months ago and you should see them now!!
Both cats have more energy, act like kittens, and their coats have become shiny and smooth…..just beautiful. I can definitely tell the difference. If they have improved this much on the outside, they must be better inside too. So THANK YOU for a premium, quality cat food. I am a fan!
Pat Phillips
Blue Springs, Missouri
Thank you Pat for sharing your story and pictures of your cats with us and we are happy that Bella & Lucy are doing so well.