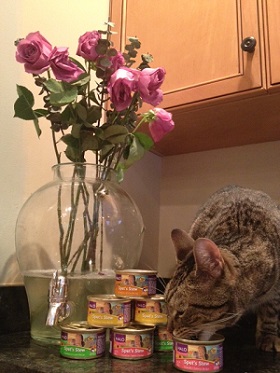 A kitty with a "lucky save" just got a lot luckier! Sarah Hodgson – who is a dog trainer and my co-host on YOUR DOG'S BEST FRIEND, our show on the Radio Pet Lady Network – was sending a "shout out" with me last Thursday night into the Halo City Tails NYC store, where our show was being simul-broadcast into the pop up shop in Manhattan.
We were talking on the air about all the good deeds that the HALO company does for animals in shelters and rescues by donating kibble to them through Freekibble.com – and how the City Tails NYC pop up shop was also going to be hosting adoption events through the month. Sarah then told the story of her newly found cat, whom she discovered thrown away in a banged-up carrier by the side of the road in Katonah in Westchester, where she lives (and gives dog training classes and private sessions through her company WhenDogsTalk.com).
She took this lovely Tom cat to her vet to make sure he was not injured, and discovered that he was not only thankfully healthy but also was one of the sweetest, most affectionate cats she had ever met. So home he went with her, to join her delightful pack of four adopted dogs and various human family members. However, the only thing missing from this Happy Ending story was a name for the pussycat – she and her children had not yet found the perfect moniker for him. But as we were saying "Hi" on the air to David from Halo in the pop up shop, it was a Eureka Moment for Sarah! She knew right then that her kitty's name had to be Halo!
I said that was perfect because clearly he had a halo over his head and a guardian angel to have brought him into Sarah's loving arms. And then, to put a cherry on top of this delightful story, the lovely folks at Halo sent her a "welcome package" of wonderful Halo canned cat food and Liv-a-Little freeze-dried protein treats to get Halo the Kitty off to a great nutritional start in his new life.
Tracie Hotchner, author of The Dog Bible and The Cat Bible, guest blogs here every Thursday on healthy, natural choices for pets.