We thought you'd enjoy these pictures from Halo City Tails – NYC! See details from our original blog below.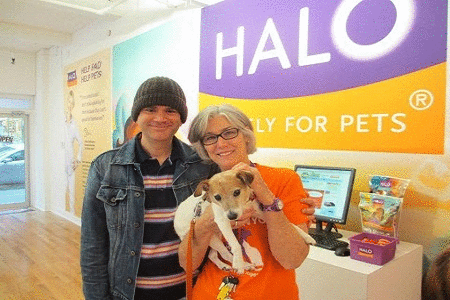 Ellen DeGeneres' natural pet food company is at it again – partnering with its retailers to make a difference for pets!
Halo is presenting a month-long "Pop Up Shop" promotion at a prime New York City location (47th and Lexington Ave). It's called "City Tails – NYC," promoting people and pets together, where hundreds of thousands of passers-by can "Pop in and do good" for pets!
Halo's extensive philanthropy, including its partnership with Freekibble.com and the work of the Halo Pet Foundation, will be featured.
Visitors can meet adoptable pets from local shelters, enter weekly raffles, and receive fabulous gifts with their donations — including authentic Ellen Show merchandise, bandanas, wrist bands and more. Plus, 100% of all donations to the Halo Pet Foundation are granted to animal welfare and rescue groups. Halo, Purely for Pets underwrites all operating expenses.
Halo's retail partners will be integral to the event in exciting ways, including signage and maps pointing to local Halo retailers, free Halo food coupon giveaways (only redeemable at Halo retailers) and city wide "Spend $1, we'll donate 1 meal" promotion with Freekibble.com.
Where: Corner of 47th and Lexington in midtown Manhattan, NYC
When: May 29 – June 26, 2013
11 AM – 8 PM Mon-Fri
12-5 PM Sat-Sun