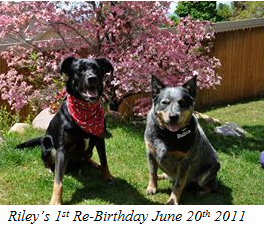 In September of 2010 Ellen welcomed Zak and Michelle Anderegg to the Ellen Show to talk about Zak's amazing rescue of Riley. While Zak was hiking in a remote canyon along the Utah/Arizona boarder he discovered an abandoned puppy 350 feet down inside the canyon.
He rescued the young pup and named him Riley, welcoming him into his family even though he already had 1 dog and 2 cats.
We wanted to share these recent pictures of Riley & Kohi with Zach visiting the Halo office. Zach is writing a book about rescuing Riley and is thinking of writing a children's book about Riley also.
Riley & Kohi with Zach visiting the Halo office: