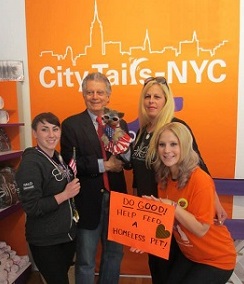 Schmitty The Weather Dog and Meteorologist Ron Trotta "Popped in and did good" for pets at Halo City Tails – NYC in support of the Halo Pet Foundation. Schmitty loves that Halo is all natural and he loves Ellen and has been on the Ellen Show.
Halo City Tails – NYC is our month-long "pop up shop" promotion in the heart of Manhattan (47th and Lexington). We're proud to partner with many retailers, shelters and other animal lovers to make a difference for pets!
Watch this fun video and learn more about how you can meet adorable adoptable pets from local shelters, win prizes including authentic Ellen Show merchandise, and be a part of cool events all month long.