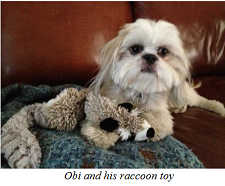 Susu207 from San Diego, CA wrote this review of Halo Spot's Stew Chicken Recipe Natural Dry Dog Food on Petco.com's web site:
Overall rating 5/5


Excellent
"My Shih Tzu has been on Wellness since he was a puppy. It's good but he never really liked it much. I was out of food and only and purchased Halo because Two dollars more and this was the last cash I had with no wallet. Petco rep told me it was good. My dog absolutely LOVES this food. I was a little concerned about switching with no transition but NO problems at all. He eats as soon as I put his food down. It is for all dogs and kernels are small and easy to eat for small dogs."
Click here to read original review on Petco.com.
Thank you Susu207 for your review and we are glad to hear that your Shih Tzu is doing so well.