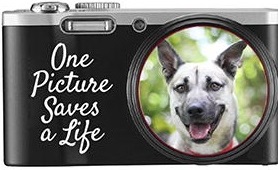 "One Picture Saves a Life Tour" recently visited Baldwin Park Animal Care Center, just east of Los Angeles, CA. They taught shelter workers and volunteers how to save lives through grooming and positive pet photography.
Jackson Galaxy from Animal Planet's "My Cat From Hell" made a surprise stop to talk about cat behavior and how to work with cats in shelters to increase adoptions.
Millions of dirty, scared, and disorientated pets enter shelters each year – and the photos taken are what people see when looking to adopt.
One Picture Saves a Life Tour's mission is to provide shelter staff and volunteers with the resources to successfully groom and photograph shelter pets, helping give them the second chance they deserve.
Halo, Purely for Pets and Freekibble.com are proud supporters of the One Picture Saves a Life Tour by donating 10,000 meals of Halo Spot's Stew to every workshop stop on the tour!
Watch video – Baldwin Park, CA – One Picture Saves a Life Tour Recap
The Photographer
Seth Casteel is an award-winning photographer and New York Times best-selling author.
The Matchmaker
The Petfinder Foundation helps support thousands of animal welfare organization that are members of Petfinder, the largest online database for adoptable pets.
The Stylist
John Paul DeJoria, pet care with a salon pedigree, 30 years ago he co-founder of Paul Mitchell Systems, revolutionized the professional salon industry by banning animal testing for his line of hair products.
The Do-Gooder
The Animal Rescue Site provides food and vital care for some of the eight million unwanted animals given to shelters every year in the U.S., as well as animals in desperate need around the world.
The Underwriter
GreaterGood.org is an independent charitable organization devoted to improving the health and well-being of people, animals, and the planet.