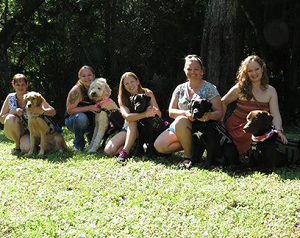 For U.S. veterans suffering from Post-Traumatic Stress Disorder (PTSD), a service dog can be a life line, bringing them back to normalcy and helping them feel safe again. And, for nearly 100 veterans and counting, that's just what non profit organization, K9s for Warriors, has done.
Founded in 2011 by Shari Duval, whose own son suffered from PTSD after two tours in Iraq, K9s for Warriors trains service dogs and pairs them with veterans struggling with PTSD.
But these service dogs have had struggles of their own. They're abandoned or homeless dogs that have been rescued from shelters and trained to assist our nation's heroes. "We save the dogs," says Sandi Capra, the organization's director of development. "But the dogs save the warriors."

Click here to read the complete story.
K9's for Warriors relies on donations and fundraising initiatives like the current Bark Breakfast tour by activist Wendy Diamond and her company Animal Fair, which is sponsored in part by Halo, Purely for Pets. The fundraiser is a 10-city tour to raise $100,000 to pair ten veterans with service dogs. Freekibble.com is proud to partner with the Bark Breakfast tour to donate enough Halo Spot's Stew to feed all ten dogs throughout their training programs, as well as 20 additional dogs in the K9's for Warriors program.