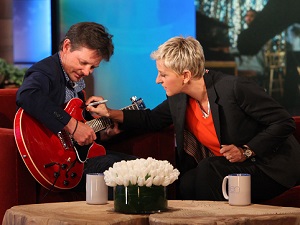 Halo co-owner Ellen DeGeneres is auctioning some incredible things on eBay Giving Works (through the Kompolt agency) to support her favorite charities.
First up is an autographed Gibson Custom 1959 Reissue Guitar; auctioning started September 13th and ends September 22nd, with all proceeds to benefit the Michael J. Fox Foundation for Parkinson Research.
Ellen has collected multiple celebrity and musician autographs on a beautiful Gibson guitar and it can be yours!
This red Gibson guitar has been autographed by Ellen and Michael J. Fox themselves, in addition to Madonna, Gwen Stefani, Brandon Flowers, Rob Thomas, and Jakob Dylan.
Previous Ellen auctions have supported the Humane Society of the United States and others. Stay tuned for more auctions!
Click here for more information on the auction.