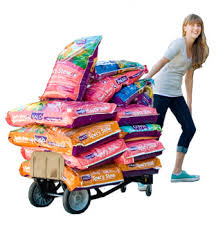 Halo, Purely for Pets just reached a big milestone – 100,000 likes on Facebook! How else would Halo celebrate its 100,000th Facebook fan?
We opened up our warehouse to animal shelters! So in honor of this milestone and to thank YOU, Freekibble.com donated over 100,000 meals of Halo Spot's Stew to 11 groups in the south including:
• Working Dogs for Vets in Lawrenceburg, TN
• McKamey Animal Center, Chattanooga, TN
• Humane Education Society, Chattanooga, TN
• Second Chance Animal Sanctuary, Warrior, AL 35180
• Friends to the Forlorn Rescue, Dallas, GA
• Safe Haven Animal Rescue, Scottsboro, AL
• Coffee County Humane Society, Manchester, TN
• Humane Society of Dickson Cty, Dickson, TN 37055
• A New Leash on Life, Lebanon, TN 37087
• Nashville Humane Society, Nashville, TN 37209
• Downtown Dogs Group, Jackson, TN
Thank you for all your support as we continue to help pets live happier, healthier lives.
Not yet a Facebook fan? Join the conversation.