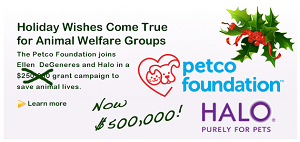 The Petco Foundation just released this amazing announcement about the Holiday Wishes Grant Campaign.

"As you may know, in October the Petco Foundation joined Ellen DeGeneres and her natural pet food company, Halo, Purely for Pets, to announce a new Holiday Wishes Grant Campaign, where animal welfare organizations would compete to receive grants totaling $250,000. Organizations were asked to submit success stories exemplifying the lifesaving work of their organizations for a chance to win a $100,000 grant award.
With the competition closed, we can report that the response from animal welfare organizations was overwhelming. We received 4,500 grant applications. The incredible work being done around the country to save animals is truly inspiring. We want to thank everyone for taking time to tell us your stories; you all are amazing!"
Click here to read the complete story.