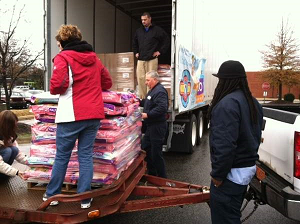 Halo, Purely for Pets and Freekibble.com make the holidays brighter for homeless dogs and cats across the nation, including those in Anson County.
The Anson County Animal Shelter received a donation of 1,500 pounds of Halo Spot's Stew last Tuesday morning, as part of the 2013 Holiday Kibble Drop which provides shelter pets the highest quality food possible.
The Anson County Animal Shelter is one of five shelters and rescue organizations in the state to receive premium HALO dog and cat food Tuesday in Raleigh.