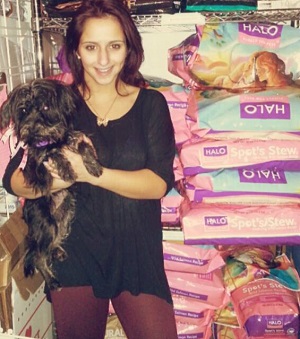 We would like to share this email from Amber Immerblum, Founder and Director of Amber's Angels Rescue sent to Halo's Bettie Hamilton, VP of product development.
Dear Bettie,
We met yesterday morning at the Pet Pantry Warehouse in Greenwich, CT. I had shown you pictures of a puppy named Andy, who I had in rescue a little less than a year ago. Andy came from a high kill shelter in South Carolina. Andy was emaciated and abused. The poor boy had severe chemical burns all over his body. As you can imagine, he was extremely unwilling to trust anyone. Needless to say, Andy had a rough life before he came to Amber's Angels.
It took about 12 weeks for Andy to trust my family, the volunteers, the staff and I. From the moment I got him, till the moment he went to his forever home, he was eating Halo dog food. During his time with Amber's Angels, Andy gradually gained weighted, regained strength and even grew his hair back! Out of all the dogs I rescued, he most definitely stole my heart! I cried like a big baby when he left. I have attached photos to this e-mail of from the first week and last week I had him.
I also have another dog, Charlie, who was rescued during hurricane Sandy. I forgot to mention him yesterday but he has also made a miraculous transformation on Halo food. Charlie is a 13 year old Maltese mix. If you would like, I can provide pictures of him as well. It was a pleasure meeting you and I can not thank the Halo company enough for the generous donation of food! I look forward to working with you again.
Sincerely,
Amber Immerblum
Founder/Director
Amber's Angels Rescue
Thank you Amber for the email and pictures of Andy to share with our blog readers. We are so glad to hear that Andy is doing so well and has a new forever home.