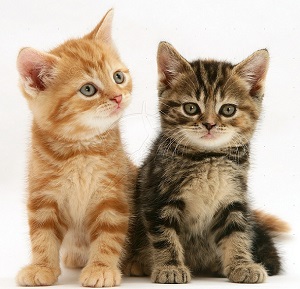 With so many food options available, how does a new kitten owner decide the best food for their new feline friend?
My recommendation is that kittens be fed exclusively canned food!
Kittens (and adult cats) are obligate carnivores and their bodies are designed to eat foods which are high in protein, moderate to high in fat and very low in carbohydrates. This type of composition will only be found in CANNED commercial cat food formulas.
If feeding all canned food is a challenge for you, a combination of a high quality dry food with wholesome natural ingredients can be fed but at least two meals of canned food should still be given every day.
Most veterinary nutrition experts agree that without some canned food, kittens will not get enough calories and nutrition to grow properly throughout their first year of life! Read more about Feeding Kittens: