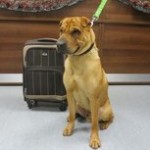 By Chris P. Janelli,
Commentary by Dr. Nicholas H. Dodman
The headline "Dog Dumped at Train Station With Suitcase" has very likely gone viral among animal lovers and welfare organizations, and I have no doubt that dozens if not hundreds of people have already volunteered to adopt the 2-3 year old shar-pei named Kai found "at a Scottish train station next to a suitcase filled with his belongings," according to Scottish SPCA Inspector Stewart Taylor. In Scotland, it's an offense to abandon an animal.
Kai's suitcase reportedly contained a dog bowl, food, a pillow and toy; the dog's name Kai was learned through his microchip, which took the investigation back to the original owner who sold the dog in 2013, but that owner (perhaps s/he was the breeder?) did not have any information on the new owner.
Click here to read the complete article.
Chris P. Janelli is a Director of The Simon Foundation, Inc., one of Connecticut's largest no kill animal rescue and adoption shelters; and the Executive Director of the Foundations' Center for Canine Behavior Studies whose mission is "To maintain the behavioral wellness of dogs and strengthen the human-companion animal bond to ensure that dogs remain in their owners' home as trusted and valued companions for life." Chris is a member of the Dog Writers Association of America.
The Halo Pet Foundation is proud to support the Center for Canine Behavior Studies, and Halo, Purely for Pets is proud to support the Simon Foundation through a food donation in partnership with Freekibble.com.