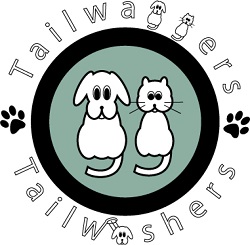 The 2014 Holiday Kibble Drop "Feed It Forward Tour" stopped at Tailwaggers in Hollywood, CA on Thursday, December 18 to spread more holiday cheer. Actress Linda Blair's organization, the Linda Blair Worldheart Foundation received 20,000 meals of Halo Vigor and Halo Spot's Stew.
Linda Blair celebrated the Kibble Drop with Mr. and Mrs. Santa Paws at Tailwaggers along with some very happy pups and customers! We suspect most of the pets were asking Mr. and Mrs. Santa Paws for homes at the top of their wishlists. We know how important nutrition is for helping pets find forever homes. GreaterGood.org Executive Director Liz Baker agrees, "A well-nourished dog is a happy dog, and that makes a dramatic difference when it comes to getting them out of the shelter and into a permanent, loving home."
The 2014 "Feed it Forward Tour" is making 15 stops to deliver 500,000 healthy meals to pets in more than 30 shelters and rescues across North America. Halo, Freekibble.com, and GreaterGood.org are enjoying this fourth annual Holiday Kibble Drop. You enable us to donate more than 1.5 million meals a year. The Holiday Kibble Drop, part of the #HaloFeedItForward campaign, is just one part of that. When you share a photo of your pet on social media with #HaloFeedItForward, Halo donates a meal on your behalf to a pet in need.
We hope that the pets of the Linda Blair Worldheart Foundation find homes soon. Thank you for making it possible for us to fulfill some holiday wishes.